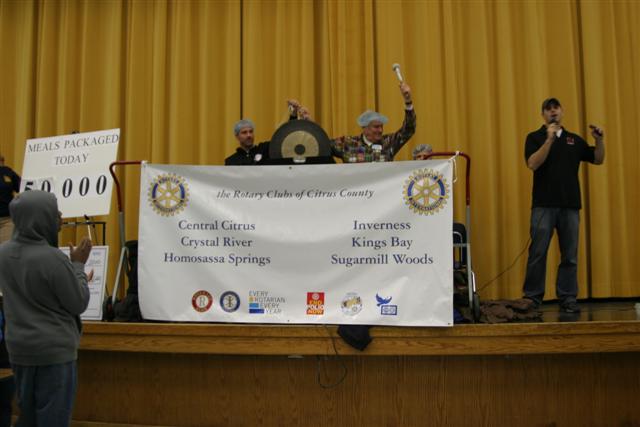 Click here to view Slideshow:
http://crystalriverrotary.com/?page_id=258&album=9
ROTARY WORKS TO STOP HUNGER By Sharon Harris
If you believe that with over 6.6 billion people in the world there just isn't enough food to go around so it's impossible to stop world hunger, Rotarians will tell you that you are wrong. Citrus County Rotarians are teaming with Rotarians around the world to help end the scourge of hunger. It began when Rotarians returned from a Rotary conference believing that there is enough food, but it needs to be packaged and distributed. In order to make it happen, four things needed to be done: organize several hundred volunteers, find sponsors to purchase food for meals at $0.25 each, find a place, and set a day. Once these were done, we could work with Stop Hunger Now, a meal packaging and world -wide distribution program. Patty Silvey, Krys Baum and Cliff Pierson went to work. The day was set for February 27. The place was CRHS Cafetorium, sponsored by Crystal River Interact Club and Principal Mark McCoy. Keith Taylor and Casey Jones got to work signing up volunteers, while Pierson, Silvey and Baum began seeking donations to purchase the meals. Fundraising was kick started when Homosassa Springs and Kings Bay Rotarians sought and received $3,282 from a District Simplified Grant. In about six weeks, over 300 volunteers signed up, and all six Rotary Clubs joined forces raising $12,750.00; enough to purchase pallets of ingredients to make-up over 50,000 meals. On February 26, Andrew Sullivan, Warehouse Manager for Stop Hunger Now, pulled in from North Carolina with a truck load of 50lb bags of dehydrated vegetables, vitamin supplement, soy protein powder and rice. Early on the 27th Rotarians along with their families set up tables and signed in over 300 volunteers. All 6 Citrus County Rotary Clubs plus members of 7 neighboring county clubs were joined by CRHS, LHS & Citrus High Interact Clubs, CRHS cheerleaders, Boy Scout and Cub Scout Crew/Troops 370 and 452, Central Florida Community College students and members from the general public. About 10:30, volunteers began putting powders into containers from 50lb bags and then they delivered the containers to 20 tables. Each table had six people filling meal bags from the containers. Once the bag was topped with rice it was handed off to a runner who carried boxes of filled bags to the weighing stations where each bag was calibrated to weigh 380 grams, enough food to feed one meal to six children. Once the bags were calibrated, they were sent to bag sealers who handed them off to the boxers. The boxers put 36 bags in a shipping box and loaded them into the truck. The truck would take them to a Raleigh warehouse where they would be accumulated into a shipment of 285,000 meals to be shipped to schools and orphanages in impoverished countries. The volunteers moved kinetically to the rhythms of Michael Jackson and Haddaway, while cheering each time the gong sounded to signal the boxing of a 1,000 meals. By 11:30, the volunteers were out of bags, and by 12:00 every filled bag was in a box ready to go to a hungry child—50,460 meals had been packaged in under two hours. It was a great, rewarding, family, fun-filled event. We'll be calling on everyone in the county next time to help us double the $12,500 and 300 volunteers to package 100,000 meals. So when you hear about Stop Hunger Now put it on your calendar, because we believe Citrus Countians can and will join the Rotarians to help Stop Hunger Now.
AND WHERE DID ALL THOSE MEALS GO????
 I hope you are doing well. I am excited to update you that meals from your packaging event have been shipped in a container full of 285,120 meals from our Raleigh Warehouse. The meals were shipped directly to Lesea Global Feed the Hungry for their nutrition programs in Uganda which will go to feed approximately 650 children daily. If this is the second or third email you have received since your packaging event it simply means that your meals have gone to impact multiple places! I have provided more information below about our partner in Uganda. We want to thank you tremendously for partnering with us to help end world hunger in our lifetime. Lesea Global Feed the Hungry – http://www.feedthehungry.org For almost twenty years more than 165 million dollars of food and relief supplies have been distributed in 82 nations of the world. The food they receive is put directly into the hands of local leaders who intimately know the needs of their communities. Because of the generous support of partners and the strong network of International Offices, Feed the Hungry has been able to provide emergency relief to those in need due to famine, drought, flood, war, or other natural disaster. With respect to this shipment, LGFTH will utilize the fortified meals in nutrition programs for approximately 650 children in eight orphanages that they oversee. The food will be stored at a central secure warehouse in Monrovia and distributed by truck to each orphanage bi-monthly. All orphanages are within 50 miles of Monrovia.
Andrew Andrew Sullivan Warehouse Manager – Raleigh Stop Hunger Now
Phone: 919-954-6480
Email: asullivan@stophungernow.org
Website: www.stophungernow.org
Stop Hunger Now Videos!